Book a cake smash photoshoot, Reynella
Cake smash photography Adelaide is, first of all, available from Alayna de Graaf Photography. Furthermore, I have many years experience with photographing babies as families from my time working with GFP Studios (when located at their office on Sir Donald Bradman Drive) and as Head Photographer Families for Advanced Life Photography. Over four years I photographed literally hundreds of families.
If you want expert cake smash photography results give me a call. My rates are very reasonable. Cake Smash Photography photography would require you to purchase the cake. The props can be provided between you and me.   These can include things such as babies' clothing, helium filled balloons, colourful back drop cloths, other decorative items.
Opening Special special rates available for $150 per session. Session to be held at Reynella Neighbourhood Centre, Tuesday 21 February. $150 for a one hour session. (does NOT include birthday Cake, but includes Some props).  These are opening special rates and full price will be $170 after this shoot.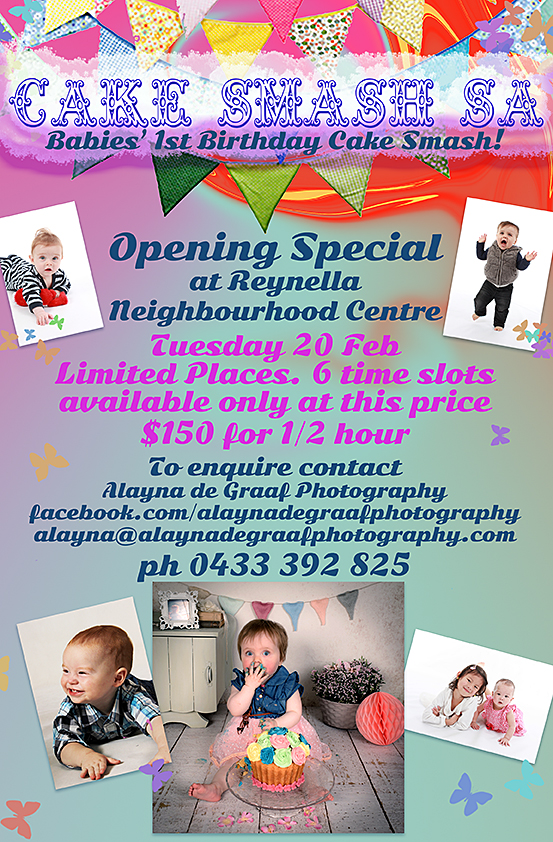 For more information or samples of my families work please call me and I will email you. PH 0433392825.
You can also see some of my families work at Gum Tree (alaynadegraafphotography, affordable photography) and at Facebook.com/alaynadegraafphotography
PRICES:
Option 1. Attend a cake smash photoshoot day at Reynella Neighbourhood Centre. These will be held each month. A hour hour session is $150 for the first one in February.  6 time slots are available. Contact me for the session times. Starting at 9 am.   Payment in full must be made at least 2 weeks prior to the day. Shoots are non refundable, but results are guaranteed.  20 years plus, experienced photographer.
Option 2. Cake Smash Shoots can be held at your own home location for $400. This includes 2 Studio Lights, Full Size Professional Backdrop, some props and professional experienced Photographer Alayna de Graaf. Up to 1 hour photography.
Option 3. For cake smash Fund Raiser Photoshoot held at Reynella at set location. $50 from each booking goes towards your kindy, childcare centre or favourite charity.  $250 for up to half hour photoshoot. Full studio set up. Time slots are set on 2 different weekends each month. To book a time call Alayna. For more info on Cake Smash Fundraisers call Alayna on 0433392825 or ask your kindy or daycare centre to enquire on your behalf.
Payments are required in advance and are non refundable. Results will be guaranteed.  If the child is sick or any other emergency type situation occurs – the photoshoot can be re done again on another day.
In conclusion, all you need to bring is the cake and a few props of your choosing (favourite teddy, cute outfit etc). I will have some props available, plus the background and professional beautiful studio lighting.