GO DIGITAL
Digital Family Fundraising, Casual and Fun!
A subsidiary of Alayna de Graaf Photography and QV Creative
DIGITAL FUNDAISING MADE EASY – Book your fundraiser today. We have the most generous fundraiser rewards in SA plus 10+ years of experience with the family photography industry. Compare for yourself. For more information please email and the details will be sent to you.
Or telephone 0433 392 825 or Connect on Facebook
To read more about how family fundraiser photoshoots with Go Digital operate, follow this link.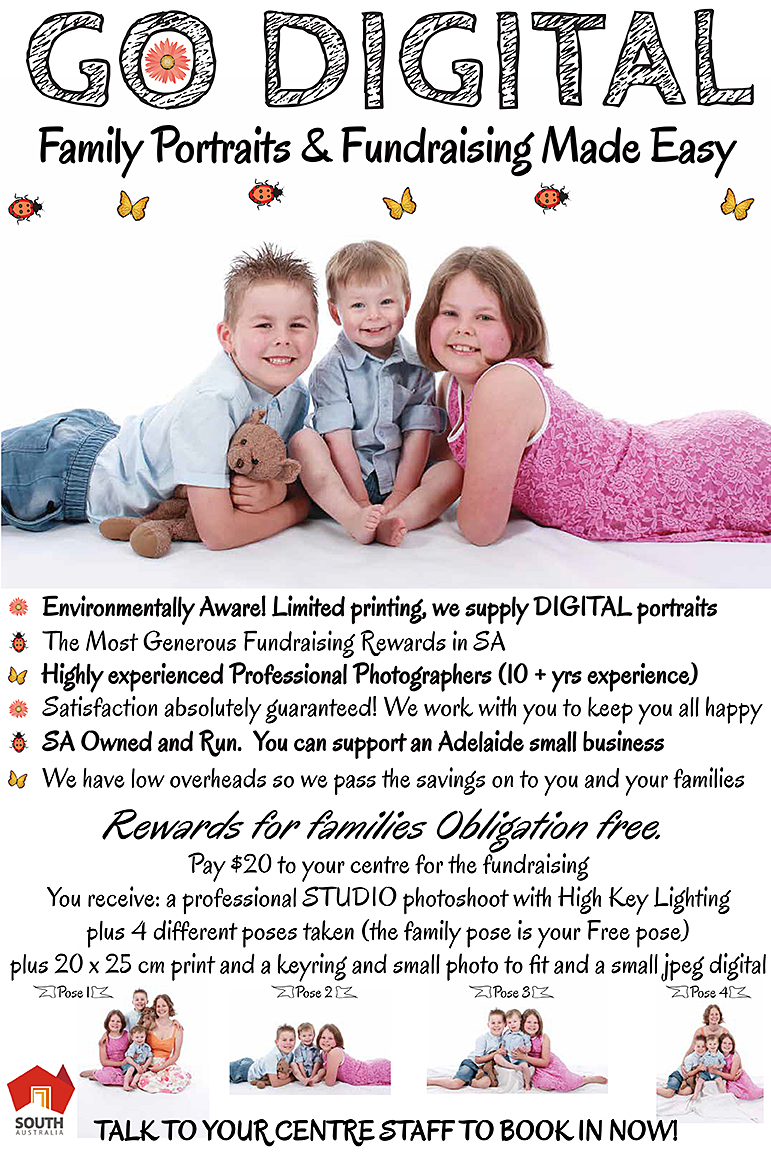 ** Legal matters and qualifications: I have an advanced diploma in advertising and graphic design plus have worked in family photography fundraiser work for 4 years for Advanced Life Photography (before they left this field of work). I have public liability insurance of $10 million for Photography business work. I also have my DCSI working with children and vulnerable people clearance certificate. 
Family Photography by Alayna de Graaf (of GO Digital), click on the image to enlarge:
Go Digital Family Fundraising Photography Adelaide
has a small carbon footprint as we have decided to provide our customers with high resolution JPEG files instead of large volume print packages. When a school, kindy or childcare centre books a Fundraiser Photoshoot Day with GO Digital the booking organisation keeps 100% of the $20 booking fee. So if there are 25 families that book, then the fundraiser has immediately generated $500. When 25 bookings are held the Coordinator also receives a free photo JPEG package, valued at $200, as an appreciation of their hard work. For every $200 package that is sold and paid for in full on the day, the Centre also receives $30 PER SALE. For example if 20 families purchase the $200 pack, then the Centre achieves a bonus reward of $600. The rewards for the families are really generous also. For just $20 they receive a soft copy (low resolution JPEG files) of their Family Portrait, plus an 8 x 10 printed copy of the Family Portrait and a keyring with a small Family Portrait. The $20 goes directly to the Centre, and the family is under no obligation to purchase the $200 package. Quite often the families do fall in love with all of the photos when they see the beautiful expressions and the quality of the images. $200 is an investment in your memories and a timeless image gets created that can be handed on through the generations as a family heirloom. Most often the photo is the reminder of a fun experience and a short but special interaction between the family members. People like to capture that feeling and keep it, as they are reminded of the Love in their family every time they look at the image. Individual poses are also available to purchase at the rate of $50 Per Pose. The families are photographed onsite at the kindy, childcare centre or school on a Saturday or Sunday morning. The Go Digital set consists of gorgeous high key lighting, with 4 high quality studio flash heads utilising umbrella reflectors. The backdrop is bright white, giving the freshest look with natural flattering skin tones. Each family have 4 different "poses" taken. These can be group photos of the children, couples photos, individual images or anything your imagination can think of. Pets are totally welcome and encouraged on set. Several photos are taken, approximately 30 images and these are all presented on a lap top two 2 weeks after the shoot. The four best photos are colour corrected, cropped and photoshopped – to make sure the 4 best photos from each "pose" are perfect. The rest of the images are also cropped and colour adjusted. The JPEG packages are $200 for the complete set and the family can then choose to print the images at their place of choice. The high resolution jpeg files can be printed as a canvas, glass print, paper print, digital print or metal print – depending which Photography Printing Services business they choose. To qualify for the family fundraiser photo package (10 x 8 print, soft copy and keyring) there *must be at least two generations in the Family Fundraiser Photo Pose.   The only time this rule can be avoided is if the parent chooses to pay for the $200 package in full on the day of the photoshoot.  Then all four images can be all just images of the children.   They also can be previewed on the day by viewing on the camera before committing to the purchase.
Families are encouraged to wear matching clothes and avoid any clashing patterns. Some of the colours that look very effective on a bright white hi key backdrop include: navy, maroon, pastels, denim. If you have an enquiry you can call any time, any day – or you can text to Alayna on 0433392825.
Also if you want photo retouching on your portraits like blemish removal, skin smooth or thinning, teeth or eye whitening – don't be afraid to just ask!